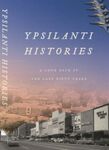 Files
Download Front Materials (145 KB)
Download Table of Contents (35 KB)
Download The Bicentennial: A Prologue (70 KB)
Download Beginnings (511 KB)
Download Ypsilanti City Council Election of 1978 (840 KB)
Download The Streams Become a River (778 KB)
Download Saving Parkview Apartments (337 KB)
Download Water Street (693 KB)
Download The Story Behind the Closing of Michigan Avenue Books and News (205 KB)
Download The Fight for Equality in Ypsilanti (80 KB)
Download Inegrating the Ypsilanti Public Schools in the Mid-1970s (345 KB)
Download A New Ypsilanti High School (607 KB)
Download The Consolidation of Ypsilanti Public and Willow Run Community Schools (169 KB)
Download A City of Champions (354 KB)
Download A Time of Traditions and a Time of Change (612 KB)
Download EMU Atheltics Turns in Exciting Fifty Years of Excellence (430 KB)
Download Hurons or Eagles? That Was the Question (234 KB)
Download A Guardian for Justice (163 KB)
Download A One-of-a-Kind Visitor Experience (502 KB)
Download A Century of Cars (608 KB)
Download Willow Run (397 KB)
Download The Ypsilanti Thrift Shop's Early History (460 KB)
Download The Transformation of Ypsilanti (308 KB)
Download A History of the Ypsilanti Food Cooperative (681 KB)
Download When Pro(?) Football Came to Ypsilanti (449 KB)
Download The Power of Sisterhood (632 KB)
Download A Brief History of the Ladies' Literary Club of Ypsilanti (618 KB)
Download Connecting Communities (583 KB)
Download Many Are Called (853 KB)
Download Behind the Furnace (390 KB)
Download The Ypsilanti Heritage Foundation (667 KB)
Download Preserving the Past (879 KB)
Download Curtains Up (666 KB)
Download The Growth of Music in Ypsilanti (68 KB)
Download Marching Down Michigan Avenue (627 KB)
Download The Phoenix of Ypsilanti (710 KB)
Download How the Historic East Side of Ypsilanti Came Back to Life (513 KB)
Download History of the Normal Park Neighborhood Association (263 KB)
Download Reflections of a Former Ypsilanti Mayor (311 KB)
Download Bob Arvin (399 KB)
Download Among Ypsilanti's Finest (244 KB)
Download COVID-19 (505 KB)
Download The Bicentennial: An Epilogue (77 KB)
Download Bicentennial Sponsors (32 KB)
Description
In commemoration of their city's bicentennial, the people of Ypsilanti look back on the dramatic changes that the last fifty years brought to this small town in southeastern Michigan. Drawing on archival research, published sources, and personal recollections, Ypsilanti Histories explores the government, educational institutions, businesses, community organizations, neighborhoods, and individuals that have defined Ypsilanti since 1973.
As befits the rich diversity of the community, Ypsilanti Histories captures a range of experiences. It explores the controversies that have rocked the city from the university mascot to school consolidation, while also celebrating the city's oldest African American civic organization and the pioneering Ypsilanti Heritage Foundation. Beloved businesses like the Ypsilanti Food Coop and the Ypsilanti Thrift Shop are profiled here as are some of the city's greatest heroes including a Medal of Honor recipient. The effects of deindustrialization are documented as are the challenges that this brought to Michigan Avenue, Depot Town, and various neighborhoods. Education has long been central to Ypsilanti's history, and Ypsilanti Histories examines changes at the city's high school and Eastern Michigan University.
The authors of Ypsilanti Histories are amateur and professional historians who call Ypsilanti home. Many personally witnessed the events they describe, and some played a key role in the histories they tell. Ypsilanti Histories: A Look Back at the Last Fifty Years is edited by John McCurdy, Bill Nickels, Evan Milan, and Sarah Zawacki.
Publisher
Ypsilanti Historical Society
Recommended Citation
Ypsilanti Bicentennial Commission's History Subcommittee; McCurdy, Editor, John; Nickels, Editor, Bill; Milan, Editor, Evan; and Zawacki, Editor, Sarah, "Ypsilanti Histories: A Look Back at the Last Fifty Years" (2023). University Archives Book Collection. 12.
https://commons.emich.edu/books/12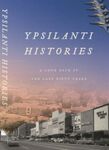 Included in
COinS