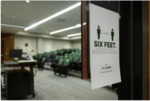 Description
In October and November of 2022, You Li's Journalism 313 students conducted oral history interviews with one another to document the student experience of the COVID-19 pandemic. In this interview, EMU undergraduate Erin Flynn talks about dealing with COVID sickness and the transition to being back on campus.
Interview Date
11-17-2022
Keywords
isolation, pandemic, Eastern Michigan University, social distancing, lockdown, COVID-19, student, mental health, EMU, journalism
Permission to Use
Permission to quote from this oral history should be requested from the University Archives (lib_archives@emich.edu).
Recommended Citation
Hachemi-Bouzid, Najat, "Erin Flynn, Oral History Interview, 2022" (2022). COVID-19 Oral Histories. 14.
https://commons.emich.edu/covidoralhist/14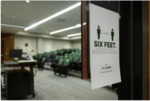 COinS