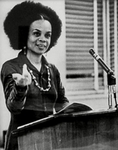 Title
Sonia Sanchez, Lecture to Black Student Association, 1976
Lecture or Presentation Date:
3-26-1976
Description
Poet and activist Sonia Sanchez (Wilsonia Benita Driver) spoke at Eastern Michigan University in 1976. Introduced here by EMU Black Student Association spokesperson Malek Ukeine, Sanchez reads from her own poetry and lectures EMU students on issues facing African Americans in 1976. Framing her arguments and critiques in her religious beliefs and her affiliation with the Nation of Islam, Sanchez calls for righteousness and unity amongst African Americans. Sanchez also speaks on the plight of children, pan-Africanism, the portrayal of African Americans in media, womanhood, slavery, drugs and black identity.
Keywords
children, entertainment, education, pan-africanism, cooperation, unity, womanhood, nation of islam, slavery, drugs, student, activism, eastern michigan university, black student association
Permission To Use:
Permission to quote from this lecture or presentation should be requested from the University Archives (lib_archives@emich.edu).​
Copyright
The copyright and related rights status of this Item has not been evaluated. Please refer to the organization that has made the Item available for more information. You are free to use this Item in any way that is permitted by the copyright and related rights legislation that applies to your use.
Recommended Citation
Sanchez, Sonia, "Sonia Sanchez, Lecture to Black Student Association, 1976" (1976). Lectures and Presentations. 14.
https://commons.emich.edu/lectures_presentations/14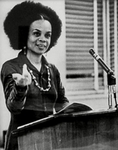 COinS