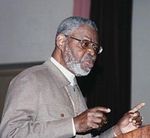 Title
Yosef Ben-Jochanan, Lecture to EMU Black Student Association, 1976
Lecture or Presentation Date:
3-27-1976
Description
As the keynote speaker of an event organized by the EMU chapter of the Black Student Association (BSA), Yosef Ben-Jochannan visited Eastern Michigan University in 1976. Introduced by BSA spokesman Malek Ukeine, Yosef Ben-Jochannan examines historical criticism leveled against white America by African American activists. He discusses the erasure of black history from popular memory and education and condemns the pro-black movement for forgetting their African heritage and forefathers. Ben-Jochannan also criticizes black participation in Christianity and interracial relationships.
Keywords
education, prison, pan-africansim, black, pride, malcolm x, martin luther king jr., culture, liberation, student activism, black student association, eastern michigan university
Permission To Use:
Permission to quote from this lecture or presentation should be requested from the University Archives (lib_archives@emich.edu).​
Copyright
The copyright and related rights status of this Item has not been evaluated. Please refer to the organization that has made the Item available for more information. You are free to use this Item in any way that is permitted by the copyright and related rights legislation that applies to your use.
Recommended Citation
Ben-Jochanan, Yosef, "Yosef Ben-Jochanan, Lecture to EMU Black Student Association, 1976" (1976). Lectures and Presentations. 15.
https://commons.emich.edu/lectures_presentations/15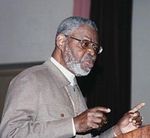 COinS