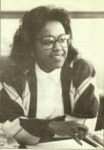 Description
Juanita Reid served EMU for 28 years in vital roles such as Vice President of University Relations, Executive Associate to the President and Secretary of the Board of Regents. Reid's integral roles gave her a front row seat to the workings of upper administration and her view of the EMU logo and mascot change reflects this close, professional proximity. Explaining the rationale of the Board of Regents and the president in changing the mascot and logo, as well as the reactions from the community both on and off campus, Reid paints a uniquely vivid portrait of a university enmeshed in the thorny process of altering the identity of a university and committing itself to the cause of inclusivity and social justice.
Interview Date
Winter 3-8-2022
Keywords
HBCU, student affairs, minority affairs, Black faculty, Gary Player, apartheid, EMU, Eastern Michigan University, Michigan Civil Rights Commission, Athletics, Ypsilanti High School, Native American, logo, Huron, Kathleen Tinney, faculty, Big Ten, MAC, student protest, logo change
Permission to Use
Permission to quote from this oral history should be requested from the University Archives (lib_archives@emich.edu).
Copyright
Copyright to the audio resource and its transcript is held by the content creator, author, artist or other entity, and is provided here for educational purposes only. It may not be reproduced or distributed in any other format without written permission of the copyright owner, Eastern Michigan University Archives (lib_archives@emich.edu).
Recommended Citation
Travioli, Cheyenne and Jones, Matt, "Juanita Reid, Oral History Interview, 2021" (2022). Oral Histories. 77.
https://commons.emich.edu/oral_histories/77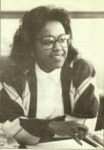 COinS