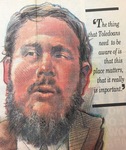 Description
Ted Ligibel was director of the Eastern Michigan University Historic Preservation program from his arrival in 1991 until his retirement in 2019. Already a recognized figure in Historic Preservation prior to his tenure at EMU, Ligibel speaks on his upbringing in Toledo where, as a child, he worked in his father's butchery grinding hamburger and dining on raw hot dogs. Ligibel describes the state of Historic Preservation under the Reagan administration and his battles with the mayor of Toledo over the nomination of historic sites. Ligibel also describes the "losing side" of historic preservation and the fact that those losses serve as valuable learning experiences. When Ligibel was appointed director of the EMU Historic Preservation program in 1991, he immediately set out to raise the visibility of the program, reflecting the concept that in the broader field of Historic Preservation, visibility is key to the success of any preservation project. Ligibel discusses the evolution of the Historic Preservation program throughout his tenure, describing the implementation of field school, the creation of graduate assistantships and student orientation, and the importance of vigorous networking even in the earliest stages of student involvement in preservation. Ligibel also speaks on several colleagues including Marshall McLennan, Nancy Bryk, Andrew Nazzaro and Chris Mayda, whom he credits with breathing new life into the Department of Geography and Geology before her death in 2016.
Interview Date
10-24-2019
Keywords
Eastern Michigan University, historic preservation, historic preservation program, university of toledo, toledo, graduate assistant, archives, SHPO, state historic preservation officer, michigan historical center, nancy bryk, marshall mclennan, andrew nazaro, chris mayda, historic preservation act of 1966, ohio historic preservation office, maumee valley historical society, ypsilanti historical society, national register of historic places, emeritus, toledo blade, valentine theater, preservation network
Permission to Use
Permission to quote from this oral history should be requested from the University Archives (lib_archives@emich.edu).
Copyright
Copyright to the audio resource and its transcript is held by the content creator, author, artist or other entity, and is provided here for educational purposes only. It may not be reproduced or distributed in any other format without written permission of the copyright owner, Eastern Michigan University Archives (lib_archives@emich.edu).
Recommended Citation
Jones, Matt, "Ted Ligibel, Oral History Interview, 2019" (2019). Oral Histories. 81.
https://commons.emich.edu/oral_histories/81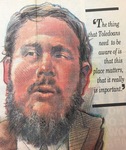 COinS