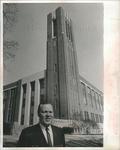 Title
Harold Sponberg, Address to Fall Faculty Conference, 1972
Description
Harold Sponberg served as president of Eastern Michigan University from 1965-1974. In this address to EMU faculty, Sponberg begins by explaining why he chose EMU and welcomes new department heads to the University. The bulk of Sponberg's remarks center on budgetary concerns and the faculty's apprehension over a looming wage-freeze. In the wake of civil unrest on and off campus, Sponberg stresses the need for the University to remain accountable for student action, whether that action be civil or uncivil.
Keywords
Harold Sponberg, McKenny Hall, Scott Westerman, higher education, State budgetary committees, student protest
Permission To Use:
Permission to Use - Permission to quote from this speech should be requested from the University Archives ( lib_archives@emich.edu).​
Copyright
Copyright to the audio resource and its transcript is held by the content creator, author, artist or other entity, and is provided here for educational purposes only. It may not be reproduced or distributed in any other format without written permission of the copyright owner, Eastern Michigan University Archives (lib_archives@emich.edu).
Recommended Citation
Sponberg, Harold, "Harold Sponberg, Address to Fall Faculty Conference, 1972" (1971). Speeches. 45.
https://commons.emich.edu/speeches/45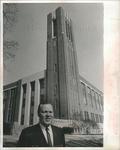 COinS